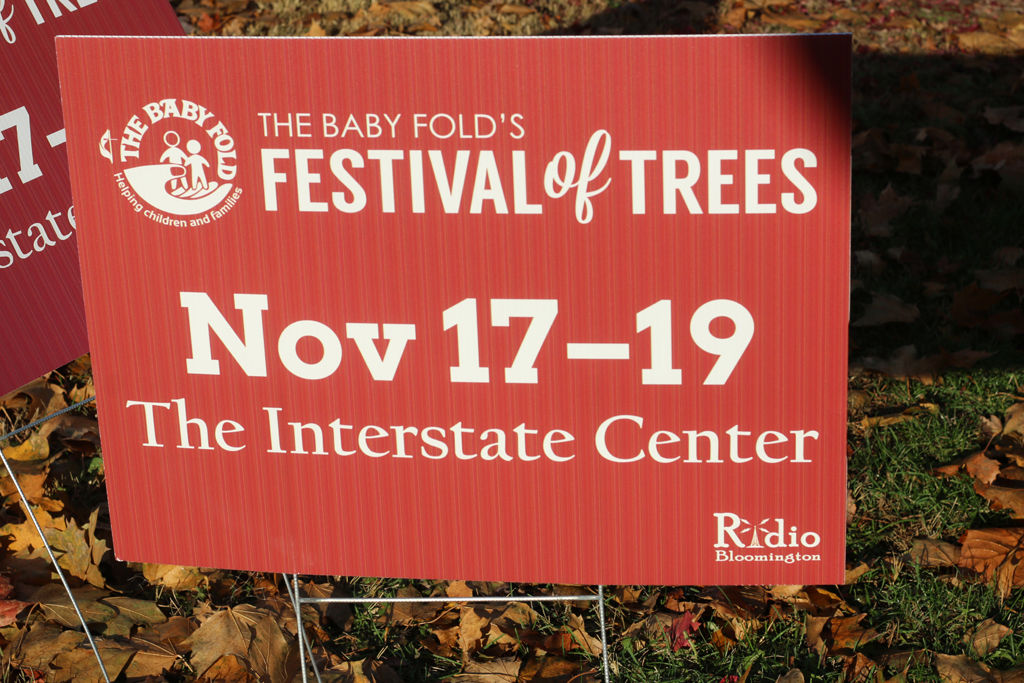 The annual Festival of Trees put on by The Baby Fold is coming up this weekend and is a great way to give back during the holiday season. ALEXIS FRENCH | Photographer | @lexigurrl09
The holiday season brings peace on earth and good will towards men, but it also brings the want to give back to friends and family. Gifts and gratitude are shared in abundance and it is the time of year when everyone feels a bit more generous.
In the Bloomington-Normal area, there are some non-profit organizations looking for that generosity as they seek donations to continue with their mission. There are many different ways to give back this holiday season outside of friends and family. One can easily give back to the homeless, children and animals.
An easy and obvious donation center is Goodwill. Goodwill takes in anything that a home no longer needs: dishes, clothes, furniture and things in between. These donations are then sorted and shipped to any Goodwill store and when someone comes along and buys an item, Goodwill takes that money to help fund job training for those in need.
Another good donation center is Habitat for Humanity in McLean County. Communications and Procurement Coordinator Ashlee Sang said Habitat for Humanity helps in three ways: It is a store that takes unwanted items in a home and business. The store re-sells these items at bargain prices for those who cannot afford furniture items. "Perhaps most importantly, we are a source of income for Habitat for Humanity of McLean County to continue building more houses with more families in our community," Sang said.
A list of acceptable items to donate is on its website. However, for the holiday season, the restore is looking for a bigger donation: iPads. "We use an iPad to ring up our customers. We plan to have a second register once our expansion is finished and we hope to streamline our donation drop-off center, so one or two iPads would be of great help," Sang said. "This type of big ticket donation could be good for a student or church group to go in on together."
Sang also said that volunteer time is invaluable to the team. Volunteers are always needed to perform different tasks. Those interested in volunteering can email the restore at restore@habitatmclean.org.
Another organization looking for extra help this holiday season is The Baby Fold. This organization works with children who have severe emotional and behavioral disorders and their families. The Baby Fold works to improve a child's life through foster care, adoption, special education and other services through family and community services.
From Friday to Sunday, Baby Fold will be hosting its Festival of Trees at the Interstate Center in Bloomington.
Coordinator of Development Operations Jessica McLane said the Festival of Trees is the organization's largest fundraiser. "The event is a perfect opportunity for students and the community to learn a little bit about The Baby Fold and all its programs and services," McLane said.
At the Festival of Trees, one can bid on decorated trees, explore a tunnel of lights, enjoy cookies and hot chocolate, visit Santa, play games and more. "If you are volunteering, bidding on an auction item or just buying a cookie in the Cookie Shop, you are helping to support over 1,000 children and families served by The Baby Fold each year," McLane said.
Lastly, it is important to not forget about the animals. The Humane Society of Central Illinois is a pet adoption center that works with over 1,000 animals each year. The Humane Society offers adoption opportunities for dogs, cats, rabbits, birds, guinea pigs, chinchillas, other rodents and horses.
Volunteers are welcome between 7 a.m. and 6:45 p.m. every day to carry out many tasks from walking dogs and cleaning dishes, to becoming a part of the public relations committee to publicize and plan events. Donations are always welcome because the Humane Society works solely from contributions. Different monetary donations include "HSCI Heroes," which provides continuous support by making a monthly, tax-deductible and recurring donation, a one-time donation by PayPal or credit card or one could even sponsor a pet for up to a 12-month period for $15 to $100.
The Humane Society is currently seeking an animal adoption counselor.
Originally published by Becky Fletcher in The Vidette